A Home Away From Home
---
---
By Ari Houston
Nerves surround each student as they leave the comfort of their parents cars, lugging mountains of memories and necessities into the small empty dorm rooms of Read Hall. For some students, this is not only their first year on campus, but their first time away from home and for IU student Meredith Hardy, she is no different.
"It was a big step," Meredith said as she looks back at her first day on campus now, almost three years later.
The Indiana University campus is Meredith's home for the next four years. She looks out the single window with tears in her eyes as her parents leave to make the trip back to her hometown, but this time without Meredith. She has to decide if she will let the homesickness consume her or if she will allow herself to jump into the diversity around her. Almost 15 minutes later, she builds up the courage to find the people that will make the rather large campus feel like home.
Meredith went on to say, "some people are definitely more ready for [college] than other people. Some people handle it alot better than other people really."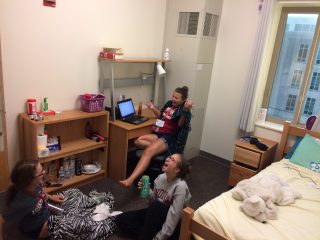 Study Time Giggles
(From Left to Right) Students Abby Chovan, Alex Hardgrave and Caroline Horvath gather in Abby's dorm room to quickly finish their feature stories for their writing class but end up off topic. The girls became extremely close over the course of the week at the HSJI Journalism Camp on the IU campus. "I wasn't expecting to be so close to any of these girls," said Abby.
Finding a home away from home can be more difficult for some because not everyone is as extroverted or as outgoing as some of their peers. Meredith, however, felt more prepared than other students. She has always been independent and her personality pushes her out in the limelight.
"I like having people, people give me energy and make me feel good about myself."
However, students like Skylar, Meredith's roommate, tend to be more closed off. She and Meredith came from the same high school in Columbus, Indiana, but Skylar has always been very quiet. Although unlikely, their personalities matched and they became very good friends, taking care of each other like how two sisters would.
Meredith has tried to make her roomie feel more at home but it is a two way struggle. Skylar has to reach out there as much as Meredith is pushing her.
What makes a home is the people that surround you. "A home is only a home if your people are there" so Meredith's biggest advice that freshmen could learn is to avoid isolating themselves.
It's tough because "people aren't going to come to you. The people that want to make friends are getting involved in things to make friends" but all it takes is a little bit of being uncomfortable in order to thrive on campus.
For at least four years of someone's life, college will be the place where lifelong friends are made. The best advice for any homesick person is to incorporate yourself with people who are as passionate about things as you are. Join the biggest clubs possible, then narrow it down because the more people to meet, the better.
Whether near or far, home is whatever each person makes it as. Just find the people that will make college an experience and the rest will be history.