Drab Denim
---
---
Denim consumers seek the best bang for their buck in the popular clothing chain, Forever 21, but is the deal deceiving? Despite the low quality of their denim, Forever 21 is currently conquering the nation's malls, as it has expanded to more than 450 stores in the U.S. and nearly 100 locations internationally.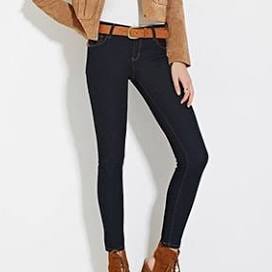 Most dedicated Forever 21 shoppers are naively blinded by the steal of $7 jeans, while other stores carry jeans with staggering prices in comparison that reach as high as $60. However, a similar brand such as Rue 21 offers jeans that are sold at a decent, in-between price such as $34 that would be an alternative to Forever 21's god forsaken jeans. Also, Rue 21 jeans exhibit a broader array of washes.
However, consumers definitely get what they pay for with these jeans, due to their lack of authentic characteristics that amount to a stylish, classic pair of jeans. It could not be more apparent that the wearer of Forever 21 jeans are in fact sporting jeans that cost less than a simple accessory, such as a scarf or necklace, also sold at the store.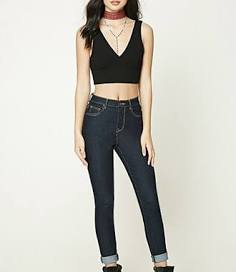 Whether it's the overall silhouette of these jeans or their dismal hues, they are a complete denim disaster. An appealing pair of jeans display a vast array of colors due to the wash, but seven dollar jeans from Forever 21 are tragically monochromatic, which attracts little to no intrigue to the garment. They are the most basic pair of jeans on the market and the price reaffirms that fact.
Not only are these trashy trousers dismally colored, but they also deprive the wearer of comfort and an alluring silhouette. They don't attractively accentuate assets of buyers' bodies but rather fit how they appear when they're still folded on the counters, where they should've remained__boxy and two-dimensional.
The utter lack of shape is most likely due to the fabric that they are composed of, which is mostly cotton and apparently not enough of elastic materials such as elastane, which is a material used in hosiery and undergarments. Elastic materials are essential to a flattering pair of jeans, because it allows the piece of clothing to wrap around the body's natural curves.
The stiffness of this inexpensive fabric feels as luxurious as it appears. These jeans merely frame consumers' figures and the texture is rough, which is attributed to the absence of stretchy materials. Additionally, the cheap materials utilized indicate that they won't last forever, despite the brand name.
Although Forever 21 shouldn't mislead thousands of young shoppers to purchase these janky jeans, it's the consumer's decision to wear cardboard-looking pants that support a trendy look as much as a lizard skin fedora would. These jeans do, however, possess advantages. For example, they're so rough that they could probably serve as a nail file.
Consumers should contemplate the overall quality of their jeans before purchasing the cheapest pair they can locate. Although jeans may seem like a basic element of any casual outfit, they should be one of the most exuberant pieces people wear, to achieve the desired look, avoiding drab denim.