Madi Tran- A Vietnamese-American speaks out in time of tension
---
---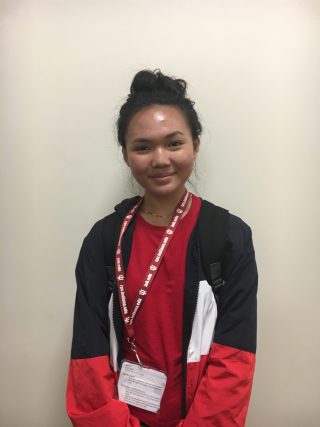 Madi Tran lives the typical, American teen life. She spends her time working on her school newspaper, The Megaphone, runs cross country and enjoys listening to rap music. Being a daughter of Vietnamese immigrants, her life has another similarity to many Americans : she has been affected by the restrictions placed on immigration since the inauguration of President Donald Trump.
"I have family in Vietnam. I know recently, my aunt's mom wasn't allowed to come over [to America] because [the government] is so tight about [immigration] now," she said about the harsh restrictions placed on immigration in effort to deter terrorism.
Born in Virginia, her family moved after the tragic events of 9/11, out of fear that living near New York was dangerous. Since her uncle was already living in Indiana, they chose to move to Indianapolis.  Since then, her family has opened a nail salon, Nails Plus, where she works as a receptionist.
The harsher laws on immigration could affect America's relationship with other countries and make it unsafe or difficult for Americans to travel. This would have an effect on Madi's life as well because she loves to travel. She has visited places like the Bahamas, the Grand Turks, and Thailand.
` Through Madi's travels she has learned to appreciate peace.
"When we went to D.C., it was kind of just an eye opening moment to see all of the veterans there and see the Holocaust Museum and the impacts of war," Tran said.
Like many Americans, her family has witnessed what can happen when national security is not well monitored.  The repercussions and fear of 9/11 caused her family to move, but  Madi still believes that not letting immigrants into America is not the answer to national security.
"There's good intentions, but I feel like we could do it differently," she said.