New Year, New Grace
---
---
Grace Kuhlman's journey into yearbook territory.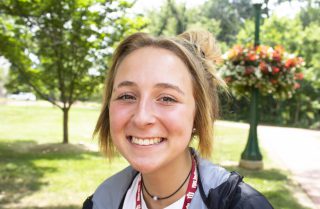 Toxic friendships, exhibiting another version of herself, and controlling effects of peer anxiety–a bundle of internal challenges summed up Grace Kuhlman's sophomore year, leading up to her role in the yearbook at Crown Point High School. In Grace's pre-yearbook, you would see her with dolled up look, including an extensive morning routine, just to fit in with her not-so friendly friends. Then came Grace's journey with yearbook.
Although previously unaware of the major change yearbook would have on her, Grace still already had an eager outlook from the start. "I came into yearbook full force, like a whole new person than I was before." Grace said. With Grace's immediate change in behavior due to her excitement alone, could it have been her yearning for new satisfaction in the change yearbook brought to her life that caused a major shift in personality, or was it the experiences later on that caused the shift? Either way, the results were immediate; Grace says she found out what real friends were and admired their devotion to their natural selves. These new friends were polar opposites to her pre-yearbook friends; her yearbook friends wanted nothing but the best for her and liked Grace in her truest form.
And Grace was not the only one to notice the product of her enrollment in the yearbook. With emotion in her voice, Grace shared the impact on her relationship with her parents; "Joining yearbook just made me so myself, and my parents noticed it right off the bat. They were in tears because of how happy they were to see a better version of myself."
With Grace and the yearbook, it was a mutual helping. As she explained, "I work harder in yearbook than I do in any of my other classes by far." Grace's hard work highlighted when she received the Most Valuable Sophomore Award within her first year of working in the yearbook. Entering her junior year, Grace secured the Chief Copy Editor position, a placement perfect for her, with her perfectionistic style and her personal affections for the copy section of her school's yearbook.
But this is not a one-man job, or even a person to task deal; Grace works alongside her yearbook staff for most of the hefty process. Sometimes, a second look becomes a necessity–a fresh idea, a critique, or even an entire brainstorming session. "Bouncing ideas with someone can completely change the direction a copy is going and it helps so much," Grace explains of her go-to writer's block method.
The yearbook class, her new home away from home; the yearbook, her life's work; and the yearbook staff, her new-found family–all have been a part of Grace's change for the better. In her exact words, "Going into yearbook really makes you unapologetically yourself." The words "unapologetically yourself" could not describe who Grace is any better, thanks to her discovery of her school's yearbook.