Q and A With Actress Ashley Dillard
---
---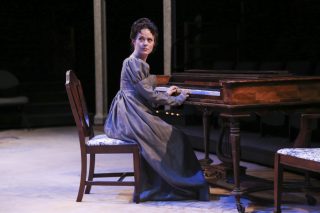 Ashley Dillard is an actress based in Bloomington. Some people may recognize her face from around campus, where she just completed her masters of fine arts degree at IndianaUniversity, or from her performances in the community. But for others don't know her well or realize what it takes to be an actress, here are five things to know about the local actress.
Her first taste of acting was in a school play about where she was Martha Manta. She even made her own costume for this performance.
She always knew that she wanted to be an actress, but "I got a distracted somewhere along 10th 11th grade because I really liked to cook, so I thought I might want to be a chef, and we had a professional chef come in and said that chefs have to work a lot of long hours. Sometimes 12-hour days and he that you have to work holidays, and I didn't want to do that. So, I decided that wanted to be an actor where I work lots of holidays and lots and lots of long hours so I don't know if I made the right choice or not, but I think I'm much more happier doing this," Dillard said.
Dillard didn't love Shakespeare, but she had a teacher who "really took to me and I really took to her" during her undergraduate work. This teacher in particular loved Shakespeare, and gave her a lot of Shakespeare to read. But as she's grown not only as an actor, as well as a person, she has grown to love Shakespeare; "if you can do Shakespeare, you can do anything."
She gets coffee before her rehearsals and performances, her go-to order being either an iced coffee or iced Americano from Hopscotch.
Dillard emphasized that acting is a "real job" and part of her job is to "stay healthy and look the same as my head shot." To maintain this, she rides her bike all over town, works out every day, does yoga and is on a very stick paleo diet.