Sliding back into an old trend
---
---
Slide sandals are widely considered one of the first forms of footwear, dating back to ancient times and civilizations, where the term 'Jesus sandals' derived. With it's simple silhouette consisting of a foam or rubber sole and a thicker strap at the top of the shoe, it's as simple as simple can get.
Its form is true to its name, wearers can easily slide their feet into the comfortable and (mostly) fashionable, trendy shoe, and be on their way.  While these shoes are not new whatsoever, they have come back from the dead from the '90's, when they were worn as a casual, everyday shoe by just about everybody–celebrities or not.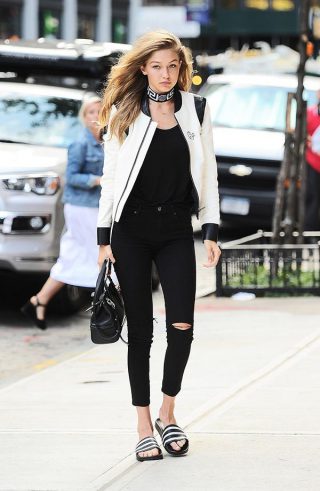 Recent catalogs and collections are just like an episode of deja vu. Whether browsing the streets or the sheets of a magazine, slides are everywhere, and are being worn by sandal enthusiasts everywhere.  Steve Madden has designed and produced many different collections of slide sandals dating back to the 90's, and even now, in 2017, his bestsellers consist predominantly of the practical sandal.
The biggest celebrities are even in on the trend. Rihanna partnered with Puma with her Fenty collection, which sells many bestselling pairs of slides which are worn by herself along with today's most famous icons, such as Gigi Hadid and Sofia Richie.
Is the trend practical and fashionable? Yes and sometimes. They are definitely practical as well as functional as their design allows, however the fashionable element depends on the brand. Designer brands often sell the cutest pairs, however the well known Adidas or Nike slides are mostly worn by middle school age boys who aren't well educated in the subject of fashion.  However, designers have made their own take on slides cute as well as comfy–the perfect combination.
A few of my personal favorite slides:
Steve Madden, Tommy Hilfiger, Gucci and just about every brand name has made the most out of the trend, creating slides with faux fur, embellishments, embroidery and more. As well as being practical, these sandals usually are cheaper than other sandals, sneakers, or heels, and can be dressed up or down depending on the style and brand of them.
This trend definitely did come back out of the blue, but it doesn't seem to be going anywhere, because it's true: simple sells.  Even the most atrocious pairs are best sellers, because they're so comfortable and well made, there's no way around it. So when shopping this summer for casual or even classy shoes, take a second look at those slides–you'll thank me later.