The Focus in Focus
---
---
There was a buzz in the air, a new energy that The Focus Newspaper hadn't felt since their old adviser decided the time had come to retire. The newspaper tabloids that the students had been tirelessly working on were placed in neat stacks on the school desks.
The 20 staff members hovered around the brand new issue, sniffing that fresh smell of newsprint and admiring the color that was such an upgrade from their newsletter style, all black and white previous paper. The editor opened her arms and hugged the stack of papers like it was a teddy bear.
"The students learned journalism from my predecessor and I'm very different from him. He retired and he was one of those teachers that students really like but I have a different way of teaching and I'm much more hands on. That might be a little difficult for them- so this was really cool to see," said Kathleen Schuckel, former professional journalist and The Focus Newspaper adviser.
The small staff with big dreams of Perry Meridian has a list of things that they would really like to approve upon. Schuckel finds major importance in getting more voices into the newspaper so that the staff can reach a wider audience and diserversify. She is also eager to expand their storytelling, and improve the design and photography.
"I'm a freelance journalist, I'm always trying to become a better writer and designer still, you come together," Ms. Schuckel said.
In efforts to give her students journalistic skills from teachers other than herself and supply them with the joyful and exciting experience that she had the chance to learn from in her past, Ms. Schuckel recommended that her staff members attend the High School Journalism Institute camp of Indiana University. Bri Hendrix, Ari Houston and about three other staff members decided to take advantage of the opportunity.
Hendrix walked into the Spruce Hall doorway during registration, eying all of the eager young faces, in hopes that she would find ways to improve the sports writing, the staffers ability to meet deadlines and her capability to be assertive and communicate with her staff as the co-managing editor.
"I feel like they're all definitely having like an identity problem. They don't know whether or not they want to be on staff and I just want them to feel comfortable with being on staff and get to know everybody," Hendrix said.
Mrs. Schuckel would really like to see The Focus Newspaper continue to grow and possibly undergo a convergence with the other types of media at Perry Meridian. She would also really like to see her students excel in college because they are armed with the responsibility and skill set thanks to HSJI.
Hendrix had learned ways to brainstorm stories more effectively and play games with her staff to ensure that they were having a good time as well as getting their work done by Wednesday, only about halfway through camp.
"Think of all the different kinds of people you have to learn from from all different schools and backgrounds and teachers who might teach differently and connect with you in a different way," Ms. Schuckel said.
Hendrix has made major strides since the started on her staff, transitioning from "the butt"of the staff, the person that everyone let their unfinished work fall back on because she was hard-working and willing to pick it up, to a strong leadership position as co-managing editor. She is currently in the leadership facet of HSJI.
While the self-driven, intelligent staffers on the newspaper do have disagreements and overcome challenges, as you must in every area of life, they are incredibly close and can rely on each other.
"Our Newspaper's called the focus so I call everybody on the newspaper my focus family," Hendrix said.
This upcoming year, The Focus Newspaper plans to get an online program started and produce a newspaper tri-weekly instead of bi-weekly. Being a part of a staff has changed Bri Hendrix. The excitement behind her eyelids and inside of the smile she tried to hide behind her words was evident as she talked about this inquisitive, curious person The Focus has turned her into.
"It's made me a more truthful person, I'm really honest with people like I'll tell them the truth because that's what I want out of my newspaper. I want it to be truthful and honest," Hendrix said.
Mrs. Schuckel has big plans for the future of the staff and is eagerly awaiting the return of her students so that she can hear about all that they've learned.
"If we love what we do we do a better job of it. Journalism is all about curiosity and learning and even if you want to be an OBGYN or a zoologist, there are things you can learn about journalism that you can use all over the place and that's what I love about it. I want them to feel that too," Ms. Schuckel said.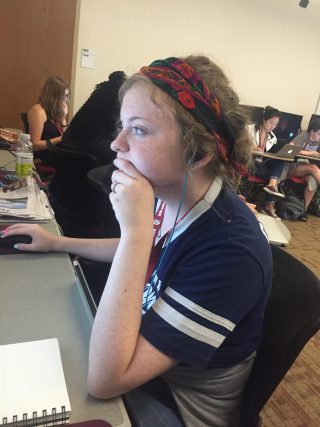 Focusing On Feature- Ari Houston works on her feature article on the homesickness of college students. Houston is learning journalistic skills that she can take back to Perry Meridian High School to improve their student newspaper, "The Focus". "Think of all the different kinds of people you have to learn from from all different schools and backgrounds and teachers who might teach differently and connect with you in a different way," her newspaper advisor, Kathleen Schuckel said.