The Scoop on Hartzell's
---
---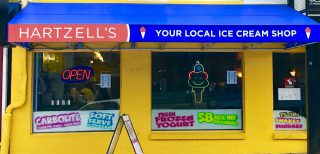 A growing line forms out the door. The blistering sun beats down on the campus, despite the evening hour. A mob of eager students await their turn to enjoy a handmade frozen treat at the college ice cream hub, chatting in the carefree summer air. The August heat draws students from all corners of campus to the local-favorite creamery, Hartzell's.  
"Hartzell's is a family-owned business that got started not too long ago," said Madison Lesko, a newly hired employee at the shop. In 2009, Hartzell Martel opened the Dunn Street  location. He runs several other ice cream shops under the name Jiffy Treet, also in Bloomington. The Hartzell's mission statement promises to "provide customers with quality ice cream, unique flavors, and excellent service."
When Hartzell married his wife, Hillary, they began to run the business together. "Hartzell hires mostly IU students," Lesko said. "Also, some of the employees are old friends of his. His friend of over 20 years, Katie, does all of the shop's pastries."
Lesko is an IU student herself and has been working at Hartzell's for about 2 ½ months. She said, "My favorite thing about working here is that Hartzell is a really easy person to work with. He is really understanding and lets us pick our schedules each week." She also loves the social environment of her job and getting to see people that she knows come into the shop.
"There is always a line no matter what," Lesko said. With dozens of nationwide ice cream chains, such as Cold Stone Creamery, Baskin Robbins, and Dairy Queen, it can be difficult to sustain a local ice cream parlor in the modern era. This really says something about Hartzell's loyal fan base in Bloomington. Although business fluctuates based on season, they maintain a consistent flow of customers year round.  
"Our main competition is Chocolate Moose. It is also family-owned and has been here a lot longer," said Lesko. However, the Chocolate Moose building is closed for the summer and Hartzell's has had plenty of business.